2009 Schedule - (Updated July 23, 2009)
Sydney Hobart Race 2007 - (Updated February 26, 2009)

---
Info
Schedule
Results
Links
Gallery
Master Points
Rosebud Softball
Archives
---
RECENT ROSEBUD NEWS






Rosebud/Team DYT Loses Rig; Crew OK, but Forced to Retire From RMSR 2009



Email Message From Onboard

We have broken our rig. All crew are safe. The rig has been cut away and we are powering to Milazzo on the north coast of Sicily.... we are about 44miles away.

We do have structural damage to the bow from landing off of a very large wave but we are water tight.

We had really come back into the fleet at the time of the failure. RAN was just a few boat lengths to weather, Luna Rosa was about .25 nm to leeward. Bella Mente was about 1 mile back and Alegre was just ahead and to leeward.

Message From Isobel Sturgeon

Well, I came all the way to Malta intending to join Rosebud/Team DYT on the Middle Sea Race. The night before the race I did not sleep at all, not a wink. So the morning of the race I dragged myself out of bed and thought, "What would O do?" I knew she would not have even got up to eat breakfast unless duty called! I then thought about what L said when I left for the airport, "You don't need to put yourself in a locker room environment. You can decide not to race even when you are in Malta." Then I remembered what S told me some months ago, "Roger has his mistress, Rosebud. You need a boyfriend." I opted merely to stay on shore since Rosebud is SUPPOSED to be my hobby (even according to the US government). I watched the start, raced back to my hotel in a rented van and had a perfect view of the second mark rounding from my balcony.

This morning, after breakfast, I received a phone call and an email telling me that Rosebud lost its rig, all crew were "safe" and the boat was on its way to a port of safety with structural damage to its bow.

I know that Dave Cardinali has probably already updated you about this. But I just thought some of you knew I was intending to go along on this race and wanted you to know that I did not.

Will this be the ending I needed to complete my book????


---
Rolex Maxi Worlds News
-- 9/13 -- Rolex Maxi Worlds Photos
-- 9/13 -- Rolex Maxi Worlds Final Results
-- 9/13 -- Rolex Maxi Worlds Final Day Article
---



Cowes Week/Fastnet News



-- 8/28 -- Royal Yacht Squadron Cowes Week Awards Photo

-- 8/9 -- Rolex Fastnet Race Tracker -- You can track the our crew as they sail through the Solent River and along the English south coast. They then must navigate the open ocean as they cross the Celtic Sea to Fastnet Rock, 10.8 nautical miles off the coast of southwest Ireland, before returning around the outside (west side) of the Scilly Isles to the finish in Plymouth.

-- 8/8 -- International sailing stars gear up for challenging classic

-- 8/6 -- Rosebud/Team DYT nips In; takes First in Class at Cowes Week

-- 7/16 -- Full house for Rolex Fastnet race


---



Block Island Race Week News



-- Final Event Press Release (PDF) --

-- Race Day 5 Article -- Block Island Race Week ends as winners named in 17 classes-- Includes Final Results

-- Race Day 4 Article -- Wind finally plays ball at Block Island Race Week

-- Race Day 3 Article -- Block Island Race Week day three breeze helps tightens results

-- Race Day 2 Article -- Day two offers relief for Block Island Race Week participants

-- Race Day 1 Article -- Rosebud/Team DYT is First to finish, takes First in Class and Fleet and wins the special prize of a Rolex Submariner watch

-- Pre-Regatta Article -- Big blow in store tomorrow for Block Island Race Week


---



Rosebud/Team DYT Ties for First, Finishes Second on Tiebreaker in NYYC Annual Regatta



With fog shrouding the first part of Friday's 19-mile Around the Island Race, Artie Means (San Diego, Calif.), navigator aboard Tom and Dottie Hill's Puerto Rican entry Titan 15, had his work cut out for him. 'We were short-tacking up the southern side of Conanicut Island and I could see land on my instruments but the crew couldn't see anything, even when we only had 40 seconds left before reaching shore.' The new Reichel-Pugh 75, which recently won the Storm Trysail Club's Block Island Race and is counting this as only its 'second race out of the box,' won on corrected time and was first-to-finish with an elapsed time of just over one hour and 51 minutes, beating out by one minute the Custom 90-foot maxi Rambler, owned by George David (Hartford, CT). Though Friday's race was an optional, separately-scored competition, it foreshadowed Titan's coming battle with Roger Sturgeon's (Ft. Lauderdale, Fla.) Rosebud/Team DYT (which corrected out to second over Rambler's third in the distance race) in weekend buoy racing that would determine Annual Regatta winners

After Saturday's two races, Titan was tied on points for first with Rosebud/Team DYT, known for excelling in heavier winds, which topped out at 14 for the regatta. Sunday's two races in their IRC Class 1 presented mainly light air, which allowed Titan to confirm a slight advantage and take the regatta, though only by virtue of tie-breaking rules.

"Every dog has its day and even when it's not your day you race as hard as you can," said Sturgeon. "We have pretty dissimilar boats but we were close in that we traded places (two firsts and two seconds for each)."

---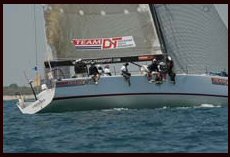 Rosebud/Team DYT at the start of the Fort Lauderdale to Charleston Race 2009





Rosebud/Team DYT Sets New Record in 2009 Fort Lauderdale to Charleston Race


4/13/09 - Charleston, S.C. -- In a fitting re-birth of the venerable Fort Lauderdale to Charleston Race, Roger Sturgeon's STP65 Rosebud/Team DYT (Ft. Lauderdale, Fla.) crossed the finish line just before 10 p.m. on April 10, to break the 35-year-old race record set in 1974 by Ralph Ryder's C&C 66 Phantom and set a new standard for the modern running of this event. Eleven boats started the 408-nautical mile offshore race at 2:00pm on April 8, just outside of Port Everglades in Fort Lauderdale and finished outside of Charleston Harbor, South Carolina. Although Rosebud/Team DYT clocked in at 1 day:7 hours:52 minutes: 49 seconds, on corrected time under IRC rules it finished second overall by less than nine seconds to Teamwork, the J/122 owned by Robin Team (Lexington, N.C.). Full results are posted on the event website www.fortlauderdalecharlestonrace.org.

"We left a lot of room for other boats to break the (new) record," said Sturgeon of his boat's 90-minute improvement on the 1974 record. "This should be great encouragement for others to do this race and go for the record. The Gulf Stream is so important; when there was zero wind we were still going three knots with the current. Learning Gulf Stream tactics is ongoing, but it plays a huge role. For example, do you go into Charleston early? You do all your routing ahead of time, but you pick timing for wind changes and if early or late, then you need to make small adjustments."


---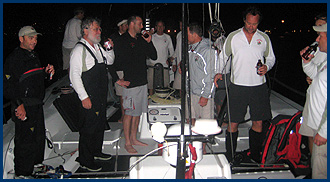 The Rosebud/Team DYT crew enjoys a much deserved case of Red Stripe at the docks





Line Honors Goes to Roger Sturgeon's Rosebud/Team DYT


2/9/09 - Montego Bay, Jamaica – Rosebud/Team DYT crossed the Montego Bay finish line at 01:33:35 this morning missing the race record by just over one hour. Even though they did not get that last bit of breeze or shift to finish before 00:30, their achievement is amazing given the conditions. The weather for the first third of the race was far from record setting and for her to make up the time in the bottom half of the course was a great accomplishment.




Too Close to Call


2/8/09 - Can Rosebud/Team DYT Beat the Record? - Montego Bay, Jamaica - It could be close. With less than 90 nm to go the main question is - will the breeze hold? The trade winds typically shut down after sunset. Also, the last few miles before the finish are notorious for light air from a reverse land breeze. The Montego Bay Yacht Club finishing team will be heading out in a few hours to be on station for the next few days.


---



FOR IMMEDIATE RELEASE
CONTACT: Barby MacGowan, Media Pro Int'l, 401-849-0220, barby.macgowan@mediapronewport.com or Catalina Bujor, Dockwise Yacht Transport, 954-525-8707, catalina@dockwise-yt.com


DYT and Rosebud Racing Renew Partnership
Safe and Efficient Yacht Transport is Top Priority for Racing Team



FT. LAUDERDALE, FLA. (Feb. 5, 2009) – It's a match made in heaven—the partnership between Rosebud Racing, the STP65 team that has been making headlines since its launch in 2007, and Dockwise Yacht Transport (DYT), the world's leading yacht logistics company with its own fleet of semisubmersible ships. Last April, the two entities merged philosophically in purpose and physically transformed Roger Sturgeon's (Ft. Lauderdale, Fla.) Farr-designed STP65 Rosebud into Rosebud/Team DYT, replete with a re-branded hull and sails that left no doubt about DYT's commitment to keeping the boat on schedule and in the spotlight as it traveled the world.

Winning the New York Yacht Club's (NYYC) Race Week at Newport presented by Rolex and the Storm Trysail Club's Block Island Race, Rosebud/Team DYT also took 2008 trophies in the Newport Bermuda Race, the NYYC Annual Regatta Sponsored by Rolex, the Royal Malta Yacht Club's Rolex Middle Sea Race and the Yacht Club Costa Smeralda's Maxi Yacht Rolex Cup. It then rang in the New Year by winning the Ft. Lauderdale to Key West Race and taking second at Acura Key West Race Week. It recently renewed its relationship with DYT for another year and plans to next conquer the Pineapple Cup Montego Bay Race. A Spring/Summer schedule on the East Coast has Rosebud/Team DYT competing in the Fort Lauderdale to Charleston Race, the NYYC Annual Regatta and the Storm Trysail Club's Block Island Race Week presented by Rolex. The boat will then go to the United Kingdom with the goal of topping off its season with victory at Skandia Cowes Week and the Royal Ocean Racing Club's Rolex Fastnet Race in August.

"Rosebud/Team DYT, while it travels the world, creates a buzz on the docks at some of the sport's most notable events," said DYT President and CEO Clemens van der Werf. "The buzz is not only about the team's performance but also about how the team transports its precious cargo safely and efficiently to each venue, especially over long distances when the boat is best not delivered on its own bottom. We couldn't be happier with the representation they give us and the enthusiasm they show for Dockwise Yacht Transport's services."

Van der Werf noted that it is the personal interaction with DYT's loading masters that help make captains and owners of sailing and fishing vessels—from 24 to over 200 feet in length--confident in every DYT voyage. DYT operates four semi-submersible yacht carriers, including the new 687.5-foot (209 meter) Yacht Express, which takes regular runs between Ft. Lauderdale and Genoa, Italy. The float-on/float off process that is unique to these ships alleviates worries about wear and tear on the boat.

"Rosebud/Team DYT will be sailing this season with a new main and spinnaker that will show our allegiance to DYT," said Rosebud Racing Managing Director David Cardinali, "but our commitment to DYT as a sponsor is deeper than a logo on a sail. We are genuinely interested in getting the DYT message out to the sailing community because the company is unmatched in its capabilities and professionalism."

More about DYT

Headquartered in Ft. Lauderdale, Florida, DYT is a wholly owned subsidiary of Dockwise Ltd. (Hamilton, Bermuda), the global leader in maritime transports and installation. Since its maiden voyage in 1987, the company has transported over 9,000 motor and sailing yachts to various destinations around the globe, offering owners and charterers safe and easy access to many of the world's premier cruising grounds.

For more information, visit http://www.yacht-transport.com or contact Catalina Bujor, Dockwise Yacht Transport, 954-525-8707, pr@dockwise-yt.com.



(end)
---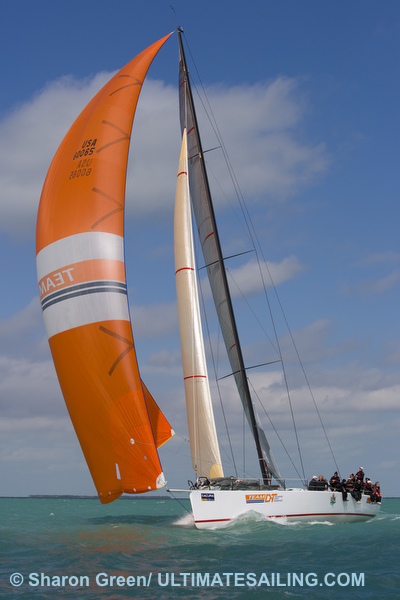 New Orange Spinnaker - Key West Race Week 2009
---
In Loving Memory of Kevin Killeen

Loving friend of Roger and Isobel Sturgeon and the original designer of the Rosebud logo
---
© Rosebud Racing, Inc. 2005
All rights reserved

Webmaster: David Cardinali